The college basketball season is in the home stretch. March is here, some leagues have already completed their conference schedules and will head into conference tournament play this week. And yet, the top teams can't stop losing.
ESPN bracketologist Joe Lunardi pointed out that of his 16 teams projected for top four seeds in the upcoming NCAA Tournament, eight lost on Saturday and Sunday. And within the confines of the 25-team Associated Press Poll, the massacre was even more complete. Those 25 teams from a week ago suffered a combined 19 losses, underlining the common theme from across this season: that nobody is safe.
The No. 1 team survived its own test this past weekend, with rival Kansas State throwing a real scare into Kansas after Jayhawk All-America candidate Udoka Azubuike rolled his ankle. Kansas fought through to win, and by winning, outlasted its previous one-week stint atop the AP Poll. The Jayhawks currently sit as the consensus No. 1, dominating the polls, predictive websites like KenPom and BartTorvik, the NCAA Evaluation Tool (NET) rankings and boasting more Quadrant I wins than any other team. And yet, if that close call against a team currently 2-14 in Big 12 play — rival or not; injury or not — hints at anything, it's that the Jayhawks' own air of invincibility can waver on a night-in, night-out basis.
With all those losses, media members faced a tough job reorganizing this week's top 25. And with few left this season and Selection Sunday less than two weeks away, that instability could make for an interesting NCAA Tournament.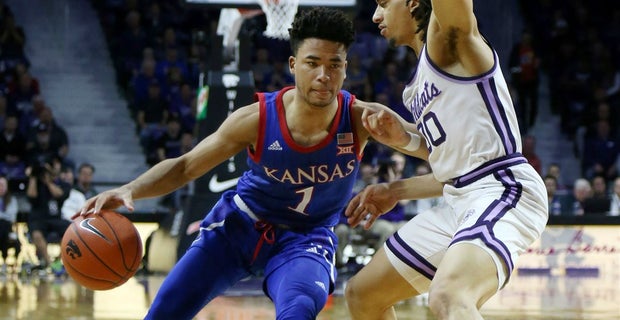 Kansas hasn't lost a game at full strength this season. But after star center Udoka Azubuike rolled his ankle — it looked like twice — the Jayhawks found themselves in trouble at Kansas State. That's when Devon Dotson made another case for All-America mention, scoring 25 points in the Jayhawks' 62-58 win that came a lot harder than the win over Oklahoma State (83-58) earlier in the week. Kansas may be without Azubuike against TCU on Wednesday, but the important thing is getting its game-changing big man back healthy for a potential March run. At the same time, a win over either TCU and Texas Tech would give Kansas at least a share of the Big 12 title for the 15th time in the last 16 years.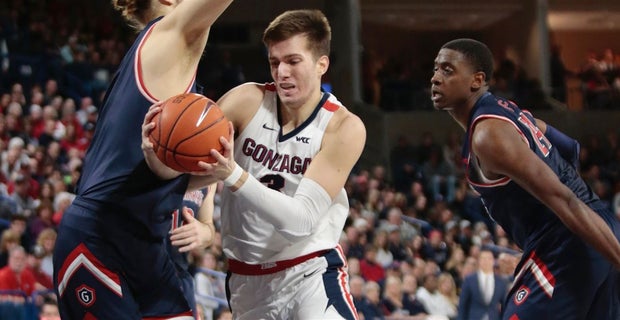 The Bulldogs bounced back well after last week's loss to BYU, handling San Diego and then beating an NCAA Tournament hopeful Saint Mary's by 10 points. That game was a bit scary for those who believe Gonzaga is vulnerable to top guard play; Jordan Four poured in 28 points for the Gaels. But Gonzaga had two players score at least 20 points itself, with Corey Kispert — who made 6-of-10 3-pointers this past week after going 1-for-10 against BYU — scoring 20 and Filip Petrusev scoring 27. Those two are big reasons why Gonzaga has the nation's top offense, one that ranks third nationally in 2-point field goal percentage and fourth in 3-point field goal percentage.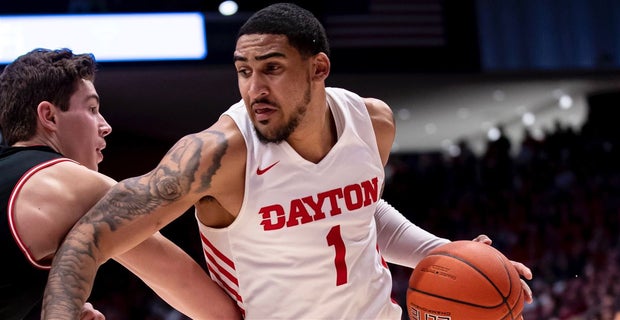 The Flyers just keep on winning; the last time Dayton lost was in overtime to Colorado on Dec. 21. Dayton has played 18 games since and has wound up on the right side of the scoreboard in every one. A big part of the reason why is a historically good 2-point offense, one that Dayton showed off in defeating a solid Davidson team last week. Dayton missed its first shot inside the arc, then made 27 straight to finish 27-of-28. The Flyers are a solid 3-point shooting team as well, but when a team shoots that well inside the arc — and almost doubles up the other team in rebounds — there isn't much of a reason to try and live from the outside.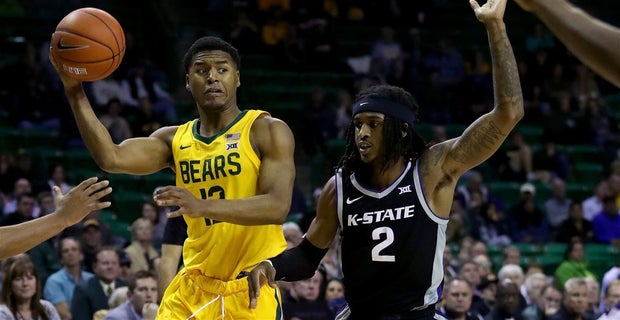 A little over a week ago, Baylor sat at 24-1 and 13-0 in the Big 12 with a chance to put up the best mark in the conference since it ramped the league schedule up to 18 games. Instead, the Bears have lost two of their last three games, including a shocking 75-72 loss at TCU on Saturday. Baylor's typically stout defense struggled to find an answer for Desmond Bane late, and the Bears' offense couldn't score enough in the final minutes to compensate. Now, Baylor sits a game back in the Big 12 standings with just two league games remaining, a home contest against Texas Tech and a trip to West Virginia.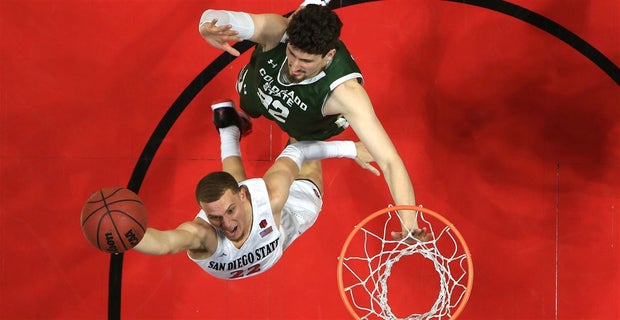 Like Gonzaga, the Aztecs are finished with league play, meaning San Diego State is only a few conference tournament games away from heading into the NCAA Tournament as a likely No. 1 seed. San Diego State got there by winning a pair of close games last week; the Aztecs trailed Colorado State 56-49 with eight minutes remaining, but won 66-60, then fell behind Nevada 66-60 with about nine minutes left. But Aztec All-America candidate Malachi Flynn. who had 17 points, five rebounds and four assists in the first game, wouldn't let the Aztecs lose, dropping 36 points on the Wolf Pack in an 83-76 victory.
6. Kentucky (24-5, LW No. 8)
Kentucky continues to pile up the wins, sitting on an eight-game winning streak after winning at an underrated Texas A&M team 69-60, then beating SEC contender Auburn 73-66 to avenge the Wildcats' loss to the Tigers from earlier in the season. The Wildcats had four players score in double-figures in the second game, led by Immanuel Quickley (who else?) with 18 points and 12 rebounds. Tyrese Maxey continued his strong run of play in big games with 17 points, seven rebounds and four assists himself, while posts Nick Richards and Nate Sestina combined for 25 points more. The Wildcats look plenty dangerous heading into March.
7. Florida State (24-5, LW No. 6)
The Seminoles were the latest team to fall victim to Clemson's weird voodoo — the Tigers are 15-13 and 9-9 in the ACC, yet are 3-1 against the league's three best teams, all of whom are ranked in KenPom's top 16 — falling 70-69. And that added a blemish to what would have been a terrific week overall, with the Seminoles looking dominant in a 15-point win over Louisville on Monday.
8. Seton Hall (21-7, LW No. 13)
The Pirates have now gone two weeks without a loss, acing their only test of the past week by going to Marquette — not an easy place to play — and leaving with an 88-79 victory. Myles Powell is the obvious All-America candidate, but don't sleep on the impact of Sandro Mamukelashvili, who averaged 19 points and 8.3 rebounds per game over Seton Hall's three-game winning streak.
9. Maryland (23-6, LW No. 9)
The Terrapins have lost just twice in their last 12 games, and while both have come in Maryland's last three games, they've also both come to teams currently ranked in KenPom's top 10. The blemish from this past week came on Saturday, when Michigan State trounced Maryland at XFinity Center 78-66. The Terrapins finish against Rutgers and Michigan this week.
10. Louisville (24-6, LW No. 11)
The Cardinals were absolutely dominated in the second half by Florida State on Monday; while Louisville technically leads the ACC standings by a half game, if the Cardinals and Seminoles both win out, Florida State would have the tiebreaker via the 'Noles' season sweep. Louisville can clinch at least a share of that league title by winning at Virginia on Saturday.
11. Creighton (22-7, LW No. 10)
One of the hottest teams in the country, Creighton ran into a hotter team on Sunday in a 91-71 loss that broke up the Bluejays' five-game winning streak. Creighton had the rare shooting off day, making 4-of-27 shots from deep, while St. John's rained in 14-of-22 from deep. That happens sometimes.
12. Duke (23-6, LW No. 7)
Duke split its games two weeks ago, then went 0-fer last week, losing at Wake Forest in double-overtime before faltering in a close game at Virginia 52-50. The Blue Devils host two teams that gave them trouble earlier this year — NC State (an 88-66 loss) and North Carolina (a dramatic come-from-behind victory) — this week.
13. Oregon (22-7, LW No. 14)
The Ducks played just once this past week, avenging a loss from earlier this season against Oregon State with a 15-point win. Perhaps more importantly, former five-star big man N'Faly Dante returned to the court, albeit for just five minutes. If Dante can get up to 20 minutes or so per game come the NCAA Tournament, some of the Ducks' rebounding issues could be fixed.
14. Villanova (22-7, LW No. 12)
Providence coach Ed Cooley talked about how ugly his team plays after the Friars' 58-54 win at Villanova. And Providence definitely mucked things up, winning the game despite putting up 0.85 points per possession. That's part of the fear with this Villanova team—the Wildcats have offensive potential, but there are also times when they can be effectively shut down.
15. BYU (24-7, LW No. 17)
Yoeli Childs and Co. are pushing almost into the top 10 in KenPom (the Cougars are at No. 11) and could be fighting toward a top-four seed. BYU has nine straight wins, with one of them coming a week ago against Gonzaga, then Childs came out and destroyed Pepperdine with 38 points and 14 rebounds in the Cougars' season finale, a 17-point win.
16. Michigan State (20-9, LW No. 24)
The Spartans have won four of their last five games, and avenged the lone defeat by going to Maryland and leaving with a monstrous 78-66 road victory. Michigan State is the final No. 4 seed in Joe Lunardi's most recent projected bracket; there isn't a No. 1 seed in the country that wants to see Cassius Winston's group in the Sweet 16.
17. Auburn (24-5, LW No. 15)
The Tigers have been one of the SEC's top teams and looked like it at times against Kentucky, but were undone by poor outside shooting. Auburn is just a 29.9 percent 3-point shooting team this year, but ranks 44th nationally in 3-point rate. That issue was multiplied against Kentucky, when Auburn took 34 shots from deep (to 27 2-point attempts), while making just 26.5 percent of its 3s.
18. Iowa (20-9, LW No. 18)
Luka Garza is up to No. 2 in KenPom's National Player of the Year formula, but his 20 points and nine rebounds couldn't quite help Iowa by Michigan State on the road in a close loss. So Garza was even better against Penn State's terrific front line, finishing with 25 points, 17 rebounds and four blocked shots in a 77-68 victory.
19. Ohio State (20-9, LW No. 23)
The Buckeyes looked like top 10 Ohio State again — and the Buckeyes do sit at No. 8 in KenPom's rankings — in pulling away from Michigan Sunday. When Ohio State's backcourt plays at that high a level, there aren't many teams capable of playing with the Buckeyes, a big part of the reason Ohio State has won three straight, including two by double digits.
20. Penn State (21-8, LW No. 16)
The Nittany Lions have had a wonderfully strong year and are set to head to their first NCAA Tournament since 2011 and just their second since 2001. But it would help if Penn State could get the ship righted a bit; the Nittany Lions have lost three of their last four games, including a split last week.
21. Houston (22-7, LW No. 25)
The Cougars just snuck into last week's poll despite falling at Memphis by a point. And in Houston's only action this week, the Cougars rewarded those voters who picked them with an emphatic 13-point win over Cincinnati. Houston ranks in KenPom's top 25 on both offense and defense and look like a dangerous team in a one-off setting.
22. Virginia (21-7, LW NR)
The Cavaliers started off the season in the AP Poll, and now, after winning six straight games, Virginia is back. Shockingly, Virginia has one of the nation's best defenses, but shots are falling at a bit better clip than they were earlier this year.
23. Illinois (20-9, LW NR)
The Fighting Illini have won four straight games and, after bouncing in and out of the poll a bit, are rightfully back in. Ayo Dosunmu gives Illinois one of the nation's toughest players to defend in the clutch, and most teams are going to struggle matching up with Kofi Cockburn.
24. Wisconsin (19-10, LW NR)
The Badgers remain the kind of team nobody wants to be matched up with in March. Slow-tempo'ed and deliberate, Wisconsin has now stacked up six straight wins and has shown the ability to make giant shots from behind the arc when the Badgers need them.
25. Michigan (18-11, LW No. 19)
The Wolverines were blitzed from deep last week, with Wisconsin making 11-of-23 3-pointers and Ohio State hitting 11-of-21. Unsurprisingly, Michigan lost both of those games. The Wolverines will need to tighten up defensively and continue to play like it did when Michigan rebounded after Isaiah Livers' return.
Others Receiving Votes: Butler 68, UCLA 54, Stephen F. Austin 47, East Tennessee State 31, West Virginia 22, Providence 17, Colorado 13, Marquette 12, Arizona 9, Texas Tech 9, Northern Iowa 4, Oklahoma 4, Stanford 4, Arizona State 4, Wichita State 2, Saint Mary's 2, LSU 2, New Mexico State 2, USC 1, Belmont 1, Vermont 1
(Visited 1 times, 1 visits today)
I'm an Activist. I love justice and equality, love beyond colors, and oneness that transcends borders. Welcome to my world.